Posted Wednesday, May 29th 2013 @ 2pm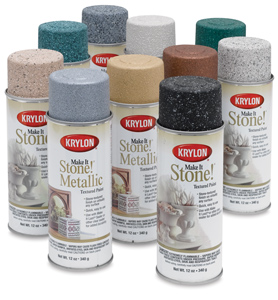 Spray paint comes in many different types including a latex spray paint but one of the really unique ones is stone texture spray paint. This comes in several colors and looks like a decorative stone finish.
I have used this on many items over the years but the one I just completed really turned out great. I had some old large plastic gardening pots that looked like clay. I cleaned them up and used some stone texture spray paint on them. Wow!
They now look just like a stone container. It is easy to use; just clean the surface and position the can about 18" from the items and have at it. The texture paint comes out with more force than regular spray paint but that should not be an issue.